Trainer Socks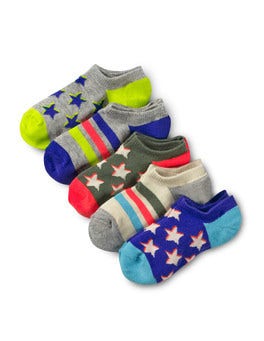 Shh! These are the kind of socks aspiring secret agents will love. With a fit that stops at the ankle, they'll disappear snugly into trainers without a trace. Bright stars and contrasting colours pop when shoes are kicked off at the end of the day.
Stripes/Grey with blue star 76% cotton 19% polyamide 4% acrylic 1% elastane, Green with white star 52% cotton 29% acrylic 18% polyamide 1% elastane, blue with white star 78% cotton 21% polyamide 1% elastane
Machine washable
£18.00 £7.20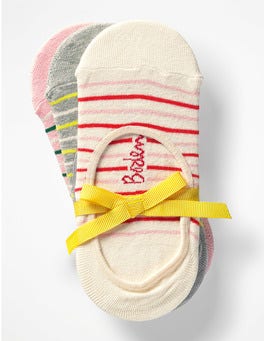 Be a 'no show' in the best possible way. These socks are low-cut so you can't see a peep when wearing flats. They're exactly what your trainers have been searching for, and in colourful stripes they look pretty fun too.
78% cotton 20% polyester 2% elastane
Machine washable
3 designs per pack
£12.00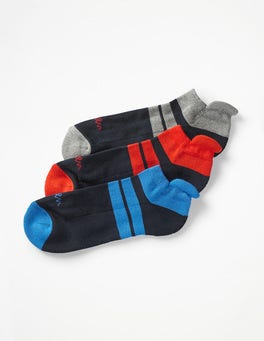 These are not your average trainer socks. We've given them a thick cushioned sole for ultimate underfoot comfort, then added a contrast colour on the toes and finished them with our Boden logo. The cotton is breathable and finished with a marl effect – because we don't believe in boring.
Machine washable
83% cotton 15% polyamide 2% elastane
STR: 86% cotton 13% polyamide 1% elastane
£22.00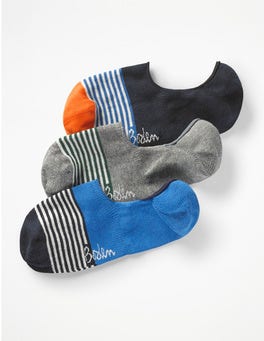 Blink and you'll miss them – meet our invisible, undetectable socks. Perfect for boat shoes and trainers, they come in a soft cotton-blend and have a silicon strip at the back so they won't slip off your heels. We put them in a three-pack, because invisible socks sound easy to lose.
Machine washable
79% cotton 20% polyamide 1% elastane
£22.00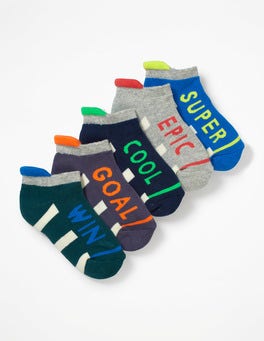 These cotton-rich socks turn up the comfort factor. Not only do they feature fun stripes, contrast colours and sporty slogans, they have added tipping for support at the heel. Soft linings make them a treat for feet from Monday to Sunday.
MUL: Super/Epic/Win 85% cotton 14% polyamide 1% elastane. Other designs 76% cotton 15% polyamide 8% acrylic 1% elastane
Machine washable
£18.00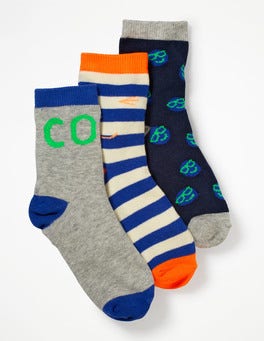 These supersoft cotton socks are just the thing to help little ones get dressed on dreary mornings. Adventurous prints come in handy at playtime, while the elastic tops ensure they stay up all day long. Perfect for slipping on under trainers or wellies on rainy days.
MUL: Stripe 58% cotton 21% acrylic 20 polyamide 1% elastane. Faces 72% cotton 27% polyamide 1% elastane. Cool 78% cotton 19% polyamide 2% acrylic 1% elastane
STR: Orange/Blue lizard 73% cotton 18% polyamide 8% acrylic 1% elastane. Other designs 77% cotton 22% polyamide 1% elastane
Machine washable
£12.00